With 25.5 billion transactions in 2020, India is by far the global leader on real-time payments. China, South Korea, Thailand and the UK make up the top five.
India's real-time payments revolution started in 2016 when the Unified Payments Interface (UPI) was launched. They've gone on to build an Immediate Payment System. But before all this, Nigeria made a similar historic move with NIBSS Instant Payments (NIP) in 2011.
NIP is a real-time payment solution that guarantees instant value to beneficiaries. NIBSS (Nigeria Interbank Settlement Scheme, a company co-owned by banks in Nigeria) built E-bills Pay on the NIP platform to enable account-to-account payments.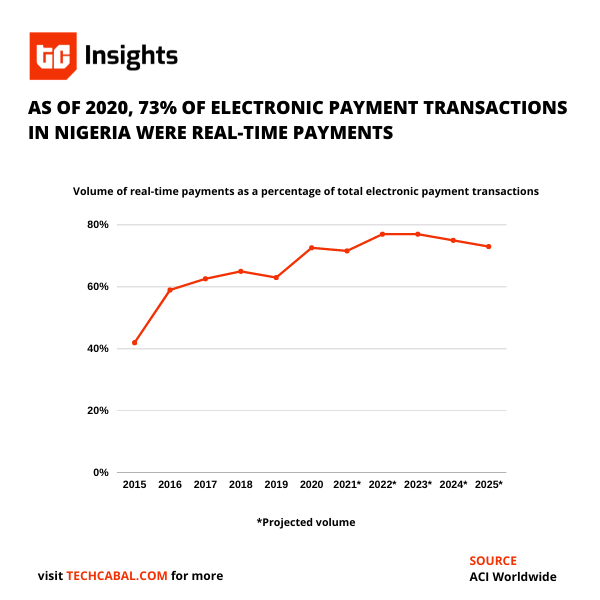 Both creations have been described as part of the foundations for Nigeria's fintech boom today. Andrew Levin, the chief economics for PwC in Nigeria once called NIBSS the most impactful fintech in Nigeria.
What NIBSS did in 2011, many are still in the process of creating. The US's first real-time payment network is barely four years old. Instant transfers through that network only became available on PayPal's Venmo in August 2019. The US Federal Reserve Bank plans to launch FedNow, a NIBSS NIP of sorts, in 2023.
But as good as NIBSS has been in Nigeria, some fintechs are already looking to go further in making transactions more real-time and unifying payments.
TeamApt, a startup founded in 2015, introduced a "virtual account" system that has become a standard for instant transfers among Nigerian fintechs. This year, a new startup has come out of beta to provide instant settlement for businesses. It is already being called "NIBSS for fintechs."
The upshot: Nigeria does not have India or China's population to top real-time payments lists. Nigerian consumers may not be at the income levels in economies like South Korea and the UK. But as Collison said, the West African country is a place to watch for trends that could shape the future of online payments.